NewLines

Program version 2.1

-
Game Description
NewLines is a small and attractive tile-based logical game.
The purpose is to remove tiles of one color from the desk by arranging them in a straight line.
Release Date
March 5, 2008
System requirements
Win98 / NT / 2000 / XP / Vista
Download
newlines20.exe (490 Kb)
Screenshot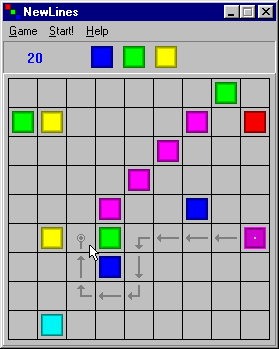 -
Registering NewLines
NewLines is distributed as shareware. You may evaluate it free of charge for 30 days. After 30 days you are required to register it. The registration fee is $10.
Download full version of NewLines
newlines20f.exe (490 Kb)
To download the file, click the link.
After the security box appears, enter your registration login and password.
To avoid errors when entering your login and password, please use "copy and paste" method.
NewLines Award


-